General Security Systems ltd.
PROVIDING PROFESSIONAL SECURITY SERVICES TO BRITISH COLUMBIANS SINCE 1959
COMMERCIAL ** RESIDENTIAL ** INDUSTRIAL

---

SECURITY ALARMS
ACCESS CONTROL
24/7 ULC MONITORING SERVICES

INTERCOMS
VIDEO SURVEILLANCE
SOUND & HOME THEATRE
MediPendant™ - THE MOST ADVANCED MEDICAL ALERT SYSTEM ON THE MARKET TODAY

No Installation fees with a 3 years contract $25/Mo.
MediPendant™ is our premiere medical alarm product. It is the first monitored two-way voice speakerphone pendant with enhanced range and superior RF capabilities.

MediPendant™is a medical alarm/alert system (also known as a personal emergency response system) that gives users access to help at the press of a button, 24 hours a day, 365 days a year. It is the first monitored medical alarm on the market today that allows the user to speak and listen to the operator DIRECTLY through the pendant.
---
There are many medical alarm companies with many different types of emergency medical equipment, so do your homework. If you're thinking about getting a medical alarm for you or someone you care about, be sure to ALWAYS ask the following questions:
Can I speak and listen to the operator through the pendant?
What happens if I hit the button when I am outside? Can I speak to the operator from outside my home?
If I am showering or bathing, can I use my pendant/medical alert bracelet? If the door is closed, will I be heard?
Will the call center operators stay on the line with me for as long as I need them?
The answers to these questions should always be YES!

---
Speak and listen to the operator directly through the pendant
24/7 monitoring trough central station - certified professionals
Easy installation/User friendly
Operates anywhere from 300 to 600 feet* in or around the home†
Water-resistant—may be worn in bath or shower**
Medical alert jewellery - wear it as a medical alert necklace , clipped to your belt, or as a medical bracelet
Battery provides up to six hours of talk time and up to one year of stand-by time

*Line of sight.
† Building structure and conditions may affect range.
**Base station should never be exposed to water.
---
MediPendant™, the FIRST fully monitored medical alarm (or medical alert) device that allows you to speak and listen directly through the pendant, anywhere in your home.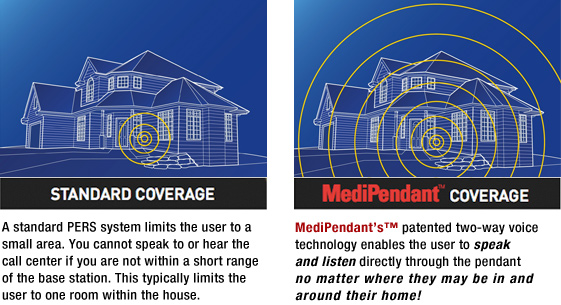 ---
IF YOU ARE NOT ABLE TO FIND THE RIGHT ANSWER FOR YOU HERE PLEASE CONTACT US AND WE WILL BE HAPPY TO ASSIST YOU
---

---